So, this post was supposed be 18 books, but woah this post is really long. Because of that, I've trimmed it down to something that doesn't make my eyes bulge when I look at the word count.
There are so many books that sound amazing that are coming out this coming year. This list is just a few of the many, many books that I'm looking forward to reading or am looking forward to other people reading so I can finally discuss with everyone! I'm sure I have missed tons of books I'm looking forward too, so let me know if your most anticipated isn't on this list and we can gush together!
Seventeen-year-old Ana is a scoundrel by nurture and an outlaw by nature. Found as a child drifting through space with a sentient android called D09, Ana was saved by a fear
some space captain and the grizzled crew she now calls family. But D09—one of the last remaining illegal Metals—has been glitching, and Ana will stop at nothing to find a way to fix him. Ana's desperate effort to save D09 leads her on a quest to steal the coordinates to a lost ship that could offer all the answers. But at the last moment, a spoiled Ironblood boy beats Ana to her prize. He has his own reasons for taking the coordinates, and he doesn't care what he'll sacrifice to keep them. When everything goes wrong, she and the Ironblood end up as fugitives on the run. Now their entire kingdom is after them—and the coordinates—and not everyone wants them captured alive. What they find in a lost corner of the universe will change all their lives—and unearth dangerous secrets. But when a darkness from Ana's past returns, she must face an impossible choice: does she protect a kingdom that wants her dead or save the Metal boy she loves?
Heart Of Iron by Ashley Poston
It should come as no surprise that the first book on this list is Heart Of Iron. I was lucky enough to get my hands on ARC of this book and I LOVE LOVED it, but I am still looking forward to seeing this cover in all it's hardback glory. Heart Of Iron releases February 27th.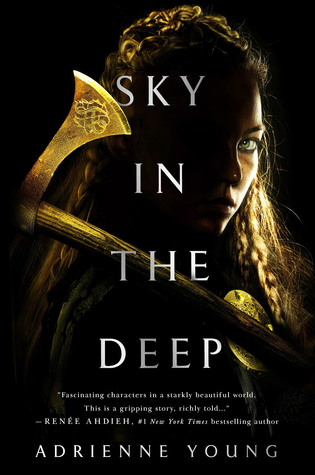 Seventeen-year-old Eelyn's world is war. Raised to fight alongside her Aska clansmen in a generations-old blood feud against the Riki, her life is brutal but simple: fight and survive. Until the day she sees the impossible on the battlefield—her brother, fighting with the enemy—the brother she watched die five years ago.  Faced with her brother's betrayal, she must survive the winter in the mountains with the Riki if she wants to make it back to the fjord after the thaw. But when she begins to see herself in the people she's been taught to hate, the world Eelyn once knew begins to crumble. And after the village is raided by a ruthless clan many believe to be a myth, Eelyn is given no choice but to trust Fiske, her brother's friend who has tried more than once to kill her. Together, they must end the blood feud between their clans or watch their people be slaughtered. A lush, Viking-age inspired fantasy about loyalty, forgiveness, and the definition of family.
2. Sky In The Deep by Adrienne Young
LOOK AT THIS COVER! I absolutely adore it. It's so gorgeous and strong and fierce. The story also sounds like it also all of those things and more. I cannot wait to see badass vikings doing badass viking things. Sky In The Deep releases April 24th.
 Zélie Adebola remembers when the soil of Orïsha hummed with magic. Burners ignited flames, Tiders beckoned waves, and Zelie's Reaper mother summoned forth souls. But everything changed the night magic disappeared. Under the orders of a ruthless king, maji were targeted and killed, leaving Zélie without a mother and her people without hope. Now, Zélie has one chance to bring back magic and strike against the monarchy. With the help of a rogue princess, Zélie must outwit and outrun the crown prince, who is hell-bent on eradicating magic for good. Danger lurks in Orïsha, where snow leoponaires prowl and vengeful spirits wait in the waters. Yet the greatest danger may be Zélie herself as she struggles to control her powers—and her growing feelings for the enemy.
3. Children Of Blood And Bone by Tomi Adeyemi.
AND AN ANOTHER AMAZING COVER. This book has been getting rave reviews and it doesn't even come out for another couple of months. I am definitely looking forward to getting this book and meeting Zélie and probably just simply looking at it in all its beauty. Children Of Blood And Bone releases March 6th
When Earth intercepts a message from a long-extinct alien race, it seems like the solution the planet has been waiting for. The Undying's advanced technology has the potential to undo environmental damage and turn lives around, and Gaia, their former home planet, is a treasure trove waiting to be uncovered. For Jules Addison and his fellow scholars, the discovery of an alien culture offers unprecedented opportunity for study… as long as scavengers like Amelia Radcliffe don't loot everything first. Mia and Jules' different reasons for smuggling themselves onto Gaia put them immediately at odds, but after escaping a dangerous confrontation with other scavvers, they form a fragile alliance. In order to penetrate the Undying temple and reach the tech and information hidden within, the two must decode the ancient race's secrets and survive their traps. But the more they learn about the Undying, the more their presence in the temple seems to be part of a grand design that could spell the end of the human race…
4. Unearthed by Amie Kaufman and Megan Spooner.
I was lucky enough to receive an ARC of this one, so I can tell you with confidence that it is SO GOOD. I have enjoyed other books by these authors, but I have to say that this one takes the cake for me. To me, it feels like an underground horror movie but with really awesome characters and that's the best of both worlds. Unearthed releases January 9th.
Enne Salta was raised as a proper young lady, and no lady would willingly visit New Reynes, the so-called City of Sin. But when her mother goes missing, Enne must leave her finishing school—and her reputation—behind to follow her mother's trail to the city where no one survives uncorrupted. Frightened and alone, her only lead is a name: Levi Glaisyer. Unfortunately, Levi is not the gentleman she expected—he's a street lord and a con man. Levi is also only one payment away from cleaning up a rapidly unraveling investment scam, so he doesn't have time to investigate a woman leading a dangerous double life. Enne's offer of compensation, however, could be the solution to all his problems. Their search for clues leads them through glamorous casinos, illicit cabarets and into the clutches of a ruthless mafia donna. As Enne unearths an impossible secret about her past, Levi's enemies catch up to them, ensnaring him in a vicious execution game where the players always lose. To save him, Enne will need to surrender herself to the city… And she'll need to play.
5. Ace Of Shades by Amanda Foody
This book sounds like something that I have never read before. And that is always a pleasant surprise for me. I also follow the author on social media and she seems like the one of the nicest people ever. I'm looking forward to reading something that I'm not used to. Ace Of Shades releases April 10th.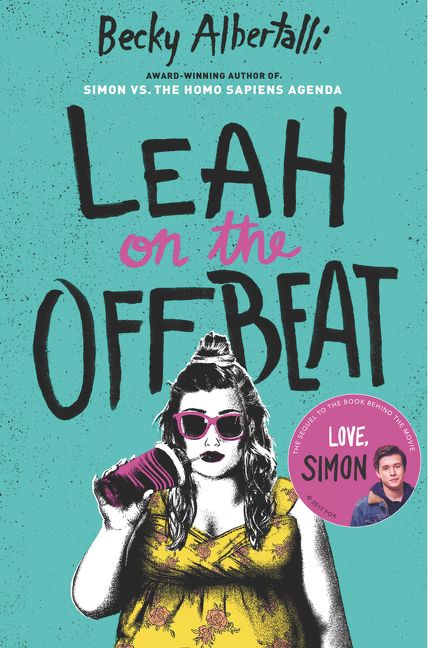 Leah Burke—girl-band drummer, master of deadpan, and Simon Spier's best friend from the award-winning Simon vs. the Homo Sapiens Agenda—takes center stage in this novel of first love and senior-year angst. When it comes to drumming, Leah Burke is usually on beat—but real life isn't always so rhythmic. An anomaly in her friend group, she's the only child of a young, single mom, and her life is decidedly less privileged. She loves to draw but is too self-conscious to show it. And even though her mom knows she's bisexual, she hasn't mustered the courage to tell her friends—not even her openly gay BFF, Simon. So Leah really doesn't know what to do when her rock-solid friend group starts to fracture in unexpected ways. With prom and college on the horizon, tensions are running high. It's hard for Leah to strike the right note while the people she loves are fighting—especially when she realizes she might love one of them more than she ever intended.
6. Leah On The Offbeat by Becky Albertalli
I recently read and loved Simon Vs. The Homo Sapiens Agenda, so I am definitely ready for the spinoff/sequal featuring the one and only Leah Burke. Leah On The Offbeat releases on April 24th.
Talking to other people isn't Kate Bailey's favorite activity. She'd much rather be out on the lake, soaking up the solitude and sunshine. So when her best friend, Alana, convinces Kate to join their high school's podcast, Kate is not expecting to be chosen as the host. Now she'll have to answer calls and give advice on the air? Impossible. But to Kate's surprise, she turns out to be pretty good at the hosting gig. Then the podcast gets in a call from an anonymous guy, asking for advice about his unnamed crush. Kate is pretty sure that the caller is gorgeous Diego Martinez, and even surer that the girl in question is Alana. Kate is excited for her friend … until Kate herself starts to develop feelings for Diego. Suddenly, Kate finds that while doling out wisdom to others may be easy, asking for help is tougher than it looks, and following your own advice is even harder.
7. Listen To Your Heart by Kasie West
I love all of Kasie West's books. They are are my go to for fluffy, sweet reads and they never tend to disappoint. This one sound particularly interesting seeing as talking to people is not my favorite activity either. Listen To Your Heart releases on May 29th.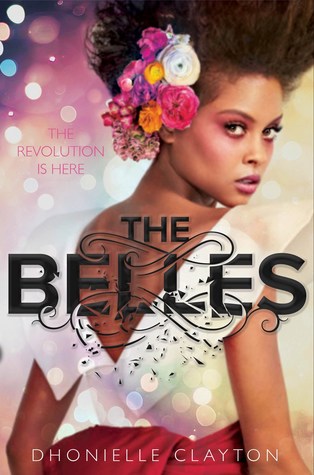 Camellia Beauregard is a Belle. In the opulent world of Orléans, Belles are revered, for they control Beauty, and Beauty is a commodity coveted above all else. In Orléans, the people are born gray, they are born damned, and only with the help of a Belle and her talents can they transform and be made beautiful. But it's not enough for Camellia to be just a Belle. She wants to be the favorite—the Belle chosen by the Queen of Orléans to live in the royal palace, to tend to the royal family and their court, to be recognized as the most talented Belle in the land. But once Camellia and her Belle sisters arrive at court, it becomes clear that being the favorite is not everything she always dreamed it would be. Behind the gilded palace walls live dark secrets, and Camellia soon learns that the very essence of her existence is a lie—that her powers are far greater, and could be more dangerous, than she ever imagined. And when the queen asks Camellia to risk her own life and help the ailing princess by using Belle powers in unintended ways, Camellia now faces an impossible decision. With the future of Orléans and its people at stake, Camellia must decide—save herself and her sisters and the way of the Belles—or resuscitate the princess, risk her own life, and change the ways of her world forever. 
8. The Belles by Dhonielle Clayton
Another gorgeous cover! I've feel like I've read a few book that are similar to this one and I haven't particularly enjoyed them, but I think this one could definitely be different for me! The Belles releases February 6th.
I cannot wait for all of these books to release! I'll see you all in 2018!