*Spoiler free*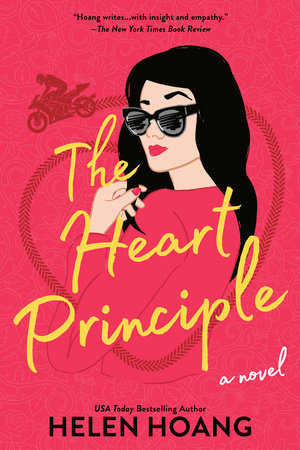 When violinist Anna Sun accidentally achieves career success with a viral YouTube video, she finds herself incapacitated and burned out from her attempts to replicate that moment. And when her longtime boyfriend announces he wants an open relationship before making a final commitment, a hurt and angry Anna decides that if he wants an open relationship, then she does, too. Translation: She's going to embark on a string of one-night stands. The more unacceptable the men, the better. That's where tattooed, motorcycle-riding Quan Diep comes in. Their first attempt at a one-night stand fails, as does their second, and their third, because being with Quan is more than sex—he accepts Anna on an unconditional level that she has just started to understand herself. However, when tragedy strikes Anna's family she takes on a role that she is ill-suited for, until the burden of expectations threatens to destroy her. Anna and Quan have to fight for their chance at love, but to do that, they also have to fight for themselves.
Since I am such a huge of both The Kiss Quotient and The Bride Test, I have been eagerly awaiting The Heart Principle! Helen Hoang is one of my favorite romance authors, and I couldn't wait to read her next book.
I have a lot of complicated feelings about this book, and a lot of them have to do with my own personal feelings about things.
I know this book was pushed back, and honestly that's fine! Life is hard, and I know authoring is hard as well. Of course I want to read it, but if it needs more time to get done, that's what it needs. I think this book also went through major rewrites. Because, the synopsis that I read when it was first released with the cover is not the same as it is now.
This is a book about a woman who is dealing with autistic burnout, trying to grapple with standing up for herself, trying to be a good caregiver to her sick father, and trying to people please everybody around her. It wasn't the book I was expecting. I think it's a good book! And I really think I loved it, but I really want the book the old synopsis was too. It sounded like it would be the good kind of cheesy, fluffy, and it would deal with things that I'm OV for. I really, really wanted that book, and while this book is just as important and just as good, I'm a bit disappointed it wasn't that. I know I'll get a book like that, I just really wanted that one. I'm not even upset really, I just wish the publisher would have announced that it had changed, like "hey, the synopsis and story are different!". I still would have read it and still would have seriously looked forward to it.
And I feel kind of bad for not liking it as much because of that, because this book is deeply personal. The author even says that it sort of part memoir. It even reads as something deeply personal, and there is something special in that. And I want to like it, I really do! And I think I do on some level, it just sort of surprised me. It's heavier than I expected, and it deals with a lot heavy topics.
Of course, this is just my personal feelings, and not the fault of the author or the book at all! I think Hoang is extremely talented, and it shows in this book! Just, the way I came into reading it didn't quite work for me.
I loved Anna, I loved her journey, and I loved her pet rock. And I adore Quan. He's so hardworking and so kind.
This book is also very, very emotional. Anna and Quan are both dealing with big, heavy things in their lives, and they both have to work through them. And they find out a way to work through them together. I loved how they came together, and I loved them together.
I will say that I wish Quan had a bigger part in this book. I know that's weird because he is literally a main character and has his own point of view, but I did wish that there was more of him! Anna is this focus, and Quan does get his time, but I kind of wish there was more of him.
Towards the end, it felt like there was a lot of summary instances. I get why this done, and I even like it in some ways. But it felt like there was a lot of ground to cover in those instances. I'm not sure if I wanted more for them, or for them to be more fleshed out, because they do come at the end, and they do work for what the book is trying to do. I dunno, I guess they just weren't my favorite!
I know it sounds like I hated this book, but I promise that I didn't! I actually really liked it! It just wasn't the book I was expecting. But, it is a Helen Hoang book, and her books are fantastic. And this book is also spectacular.
The Heart Principle comes out August 31, 2021! You can add it on Goodreads and pre-order a copy in the meantime!