*Spoiler free, but spoilers for Gravemaidens*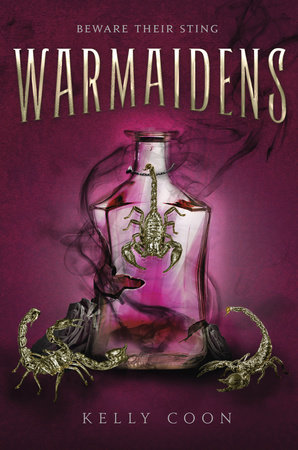 Just a few moons after escaping the tomb in Alu, Kammani and the other runaway maidens have found refuge in the city-state of Manzazu. There, Kammani has become a respected healer, especially among the warriors she's brought back from the brink of death. Now that the nightmares of Alu are fading, she can finally decide whether or not to take Dagan's hand in marriage. But when an assassin murders a healer he believes is Kammani and attempts to kill the displaced queen of Alu, the maidens realize they've been found. Hungry for revenge, Manzazu's queen wants to strike back at Alu with her fiercest weapons—her scorpion warrior maidens—but Kammani knows that war harms more than it heals. To save the innocents and any chance of a future with Dagan, Kammani must take down Alu's ruler before their lives burn up in the flames of war.
When I read Gravemaidens, I thoroughly enjoyed it. I had a few issues here and there, but I still came out of the experience happy with what I read. I was really curious how the sequel would conclude this duology and how it would expand upon this world, outside of Alu. And there were even assassination attempts and tons of scorpions promised in this one, which even heightened my longing for it! Trigger warnings: mentions of attempted rape, blood, death, grief, gore
For a bit of this book, I wasn't sure how I was going to feel. It seemed like there was so much going on and I didn't know how everything would settle out. But, I am pleased to report that I enjoyed this book! Like Gravemaidens, I had a few issues here and there, but in the end, it left me feeling like this was a fantastic duology.
First off, Coon's writing has this feeling of sweetness too it. It feels like pink peppermint and something fuzzy and white. While I enjoyed that feeling most of the time, I felt like it got to be sickly sweet at times. It's a bit hard to explain since this it's just the feeling I got from the book. Though, I feel like Coon would be FANTASTIC at writing contemporary. Her sweet writing style would fit the genre fantastically and I'm actually really, really hoping she write a contemporary book one day. I think she would knock it out of the park.
I felt like a lot of the plot was hatching plots, getting so close to the goal, and then just falling short. I felt like it was the same formula over and over again. It's a small frustration, but one I couldn't help but notice.
The plot was also incredibly twisted together. I'm not sure how I felt about it, but I'm leaning towards the "liked it" side. I felt like I was in the mess with Kammani. I couldn't quite see the end goal or the path ahead. Things got so muddled and people kept getting in the way and plans kept going sideways. It felt real, which I always appreciate. It is kind of frustrating to never quite know where the plot is heading, but I also enjoyed being in the thick of it with Kammani!
I really liked Kammani's journey in this book. I think parts of it could have been delved into deeper, such as her feelings about her role as a healer, but I still love her character. Her relationships with the other characters is where she really shines. I love her sibling relationships. I love her friendship with Iltani. I love her romantic relationship with Dagan. They're not perfect (especially Iltani, I loved how big a role she played and I kind of want her to get her own book), but they're true. I loved how Kammani was so sure in her healing and her talents. I loved the healing aspect of this book overall really. Kammani is such a kind person and I loved how that shined through.
I also liked how this book expanded on this world. It turned it into something shimmering. Sweltering hot, but something worth fighting for.
Though, this book had so much violence against women. Girls being sold as brides, attempts to bed them without consent, women not having rights in a marriage. It was so ingrained into the world and it just made me a bit uncomfortable to read. Also, a character loses an arm and there's a comment made about him being "broken" and it just rubbed me the wrong way.
All in all, despite my few issues, I enjoyed this duology. It thrives in its relationships and characters. It's vibrant and I'm eager to see what this author writes next!
Warmaidens comes out October 20, 2020! You can add it on Goodreads and pre-order a copy in the meantime!